Si sta parlando molto dell'impennata dell'audience che hanno avuto i festival nell'ultimo biennio.
Sempre più persone, infatti, si affacciano alle kermesse musicali con un altro sguardo.
C'è ancora chi ha le mani bucate e non riesce a metter da parte i soldi per l'estate, o chi, ancora li evita perché li considera adatti solo a veri appassionati, ma la realtà dei festival è ormai ampiamente consolidata ed i numeri sono in costante aumento.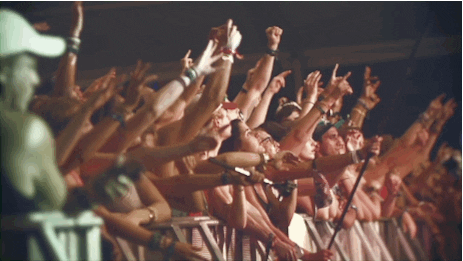 Ultima, tra le novità che riguardano questi big events, viene messa sul piatto da Live Nation, che offrirà una sorta di pass per poter accedere a ben 90 festival in tutto il mondo.
Al costo di 799$, infatti, si potrà partecipare praticamente a tutti i festival organizzati direttamente o indirettamente da Live Nation, tra i quali: Austin City Limits, Electric Daisy Carnival, Governors Ball, Parklife, Lollapalooza, Lollapalooza's Berlin, Lollapalooza's Paris, Forecastle, Rock Werchter e molti altri.
E se è già sold out?
Nessun problema, perché col Passport si salterà la fila e si entrerà ugualmente.
Qui tutte le info.
Ecco la lista completa degli eventi che hanno aderito a questa iniziativa:
Austin City Limits Music Festival
Barcelona Beach Festival
Billboard Hot 100 Music Festival
Bonnaroo Music and Arts Festival
Camp Bisco
CBC Music Festival
Center of Gravity Festival
Chasing Summer Music Festival
Chicago Open Air
Citadel Festival
Community Festival
Contact Winter Music Festival
Copenhell
Countdown NYE
Country LakeShake
Creamfields
Creamfields Steel Yard
Crystal Coast Music Festival
DCODE Festival
Down the Rabbit Hole
Download Festival
Download Festival Paris
Download Festival Spain
Dreams Music Festival
Dreamstate San Francisco
Electric Daisy Carnival
Electric Daisy Carnival
Electric Forest Festival
Electric Picnic Music and Arts Festival
Escape Halloween
Faster Horses Country Music Festival
Field Trip Music & Arts Festival
Findings Festival
Firenze Rocks Festival
Forecastle Festival
Free Press Summer Festival
FVDED in the Park
Glasgow Summer Sessions
Governors Ball Music Festival
Graspop Metal Meeting
HARD Summer Music Festival
Heartland Festival
I Love Techno Europe
Independent Days Festival
Jamboree in the Hills
Latitude Festival
Leeds Festival
Lollapalooza Berlin
Lollapalooza Chicago
Lollapalooza Paris
Lovebox Festival
Lowlands Festival
Main Square Festival
Music Midtown
Nocturnal Wonderland
North Sea Jazz Festival
Ohana Festival
One Love Music Festival
Paradiso Festival
Parklife
Popaganda Music Festival
Reading Festival
Rock am Ring
Rock im Park
Rock im Pott
Rock Werchter
Roots Picnic
Route 91 Harvest
Sasquatch! Music Festival
Sloss Music & Arts Festival
Summerburst Göteborg
Summerburst Stockholm
The Falls Music & Arts Festival
The Isle of Wight Festival
The Meadows Music & Arts Festival
The Peach Music Festival
The Warehouse Project
Trackside Music Festival
TRNSMT Festival
TW Classic
V Festival
Voodoo Music + Arts Festival
Watershed Music Festival
Way Out West
We Are Electric Weekender
Werchter Boutique
Wilderness Festival
Wireless Festival Germany
Wireless Festival England
Woo-Hah! Festival
Che bomba, no?